Karen Nai, Head of Marketing at Burger King Singapore. /Burger King
The secret ingredient to viral fast-food marketing campaigns
Burger King Singapore's head of marketing shares four tips.
A top marketing challenge for brands is that most consumers are tired of traditional marketing techniques. According to The Optimove 2023 Consumer Marketing Fatigue Survey, 66% of consumers want fewer marketing messages from brands.
Talking with QSR Media, Karen Nai, Head of Marketing at Burger King Singapore reveals her strategy for creating viral marketing campaigns.
"One key shift in consumer behaviour is the growing preference for authenticity over overly curated content. Consumers are seeking genuine, relatable experiences that resonate with them on a personal level. Brands that can create authentic and relatable content have the potential to engage their audiences more effectively," Karen said.
Predicting what marketing campaign will go viral is impossible, however, Karen said Burger King uses four main strategies to top the scales in their favour.
Strategy
In Karen's experience, social media platforms are key drivers of trends, especially in Asia.
"Keeping a finger on the pulse of these trends and finding appropriate ways to incorporate them into our campaigns is what we strive to do, thus allowing our content to feel fresh and to resonate with the wider audience," Karen said.
For example, to celebrate the return of their Chicken Fries menu, Burger King dived into branded merchandise.
"We saw that there was a burgeoning trend of collectables offered by fast food restaurants and created our own exclusive, premium line of merch. With that, this campaign saw snaking queues at our campaign activation sites when we had a caravan parked at SAFRA Choa Chu Kang and Plaza Singapura where customers were trying to get their hands on the collectables – depicting how incorporating current trends can help with the virality of a campaign," Karen said.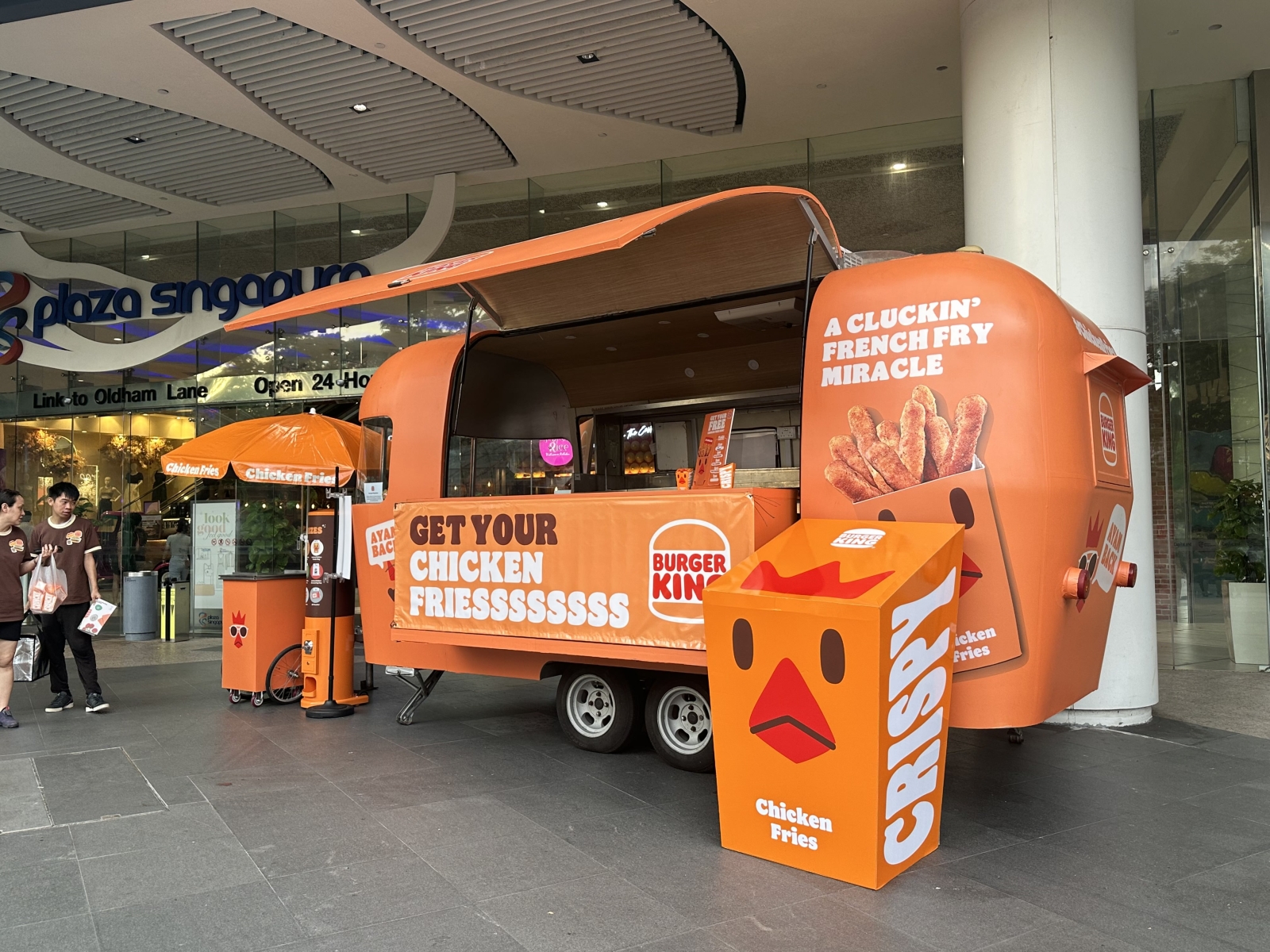 Content that allows customers to engage with the brand and share experiences also generates a lot of traction.
"We have always tried to develop campaigns that involve interactive elements, such as games or challenges that encourage the production of user-generated content. Through our campaign, we introduced a novel Instagram Story game filter where users can use social media to play, post their attempts at the game, submit their high scores and stand a chance to win a limited edition Burger King merchandise. This strategy did not only encourage our audience to interact with the brand in a fun way but to also create shareable marketing materials through user-generated content," Karen explained.
Their Chicken Fries campaign for example generated a growth of 19.9% and 21.03% in engagement rate and follower count. Their Instagram-focused content like Burger King's post about the Chicken Fries saw a 46.7% increase in engagement rate compared to a non-Chicken Fries campaign post.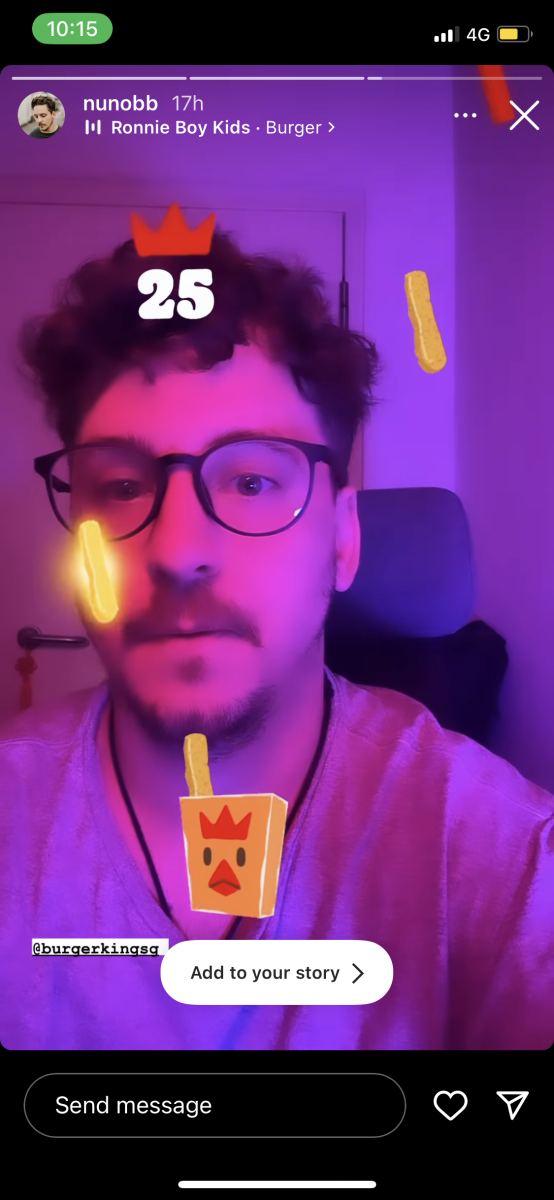 With limited-time offers, creating a sense of urgency through product exclusivity is how Karen would attack a new campaign. Karen explained that the scarcity factor pushed consumers to want to get the items as soon as possible before they are out of stock.
"We produced only 300 pieces of the Chicken Fries plushies and 500 pieces of the Chicken Fries cooler bags. The Chicken Fries cooler bags and the Chicken Fries plushies which were allocated for specific activations were fully redeemed through various campaign mechanics such as our Instagram filter games, or the caravan gachapon machine. Having such exclusive merchandise also helps the brand to foster brand loyalty where creating a product that customers love can build a stronger connection between the brand and its consumers, and encourage repeat business," Karen said.
Marketing in the modern world has also birthed new brand collaborations. The rise of social media made it the norm to have popular influencers promote a brand to increase the reach and virality of a campaign.
According to a survey on social media influencers conducted by Rakuten Insight in May 2023, one out of 2 Singaporeans stated that they had purchased an item or product because it had been endorsed by an influencer.
However, choosing the right people to partner with is also vital.
"The Chicken Fries campaign was executed in collaboration with various local influencers such as @jmiah.tropic, @zoeraymondtan, and @fauzielaily — chosen through careful analysis of our target market and their demographics — which tapped on their reach and influence, expanding the campaign reach beyond posting on the brand's page alone," Karen said
Shifts
Marketing won't just rely on strategy. Keeping an eye on shifting customer preferences and behaviour will also play a part.
"One notable shift in digital marketing strategy post-pandemic is the heightened awareness and interest among consumers regarding the food production process. People are no longer simply ignoring labels; they are now actively seeking out information and taking deep dives into understanding the manufacturing and production practices behind the food they consume. This trend is driven by a growing emphasis on sustainability, eco-friendliness, and the desire for all-natural ingredients," Karen shared.
Burger King responded to this by launching the REAL WHOPPER campaign in 2022, where the brand proudly proclaimed that its Whopper range burgers do not contain any colours or flavours from artificial sources. The campaign aimed to highlight Burger King's ongoing efforts to prioritise real and natural ingredients in our menu items
"Despite these key strategies, these are just guidelines. Creating a campaign often depends on many different factors, so it is crucial for us to continuously experiment with creative ideas to give consumers a fresh offering," Karen said.